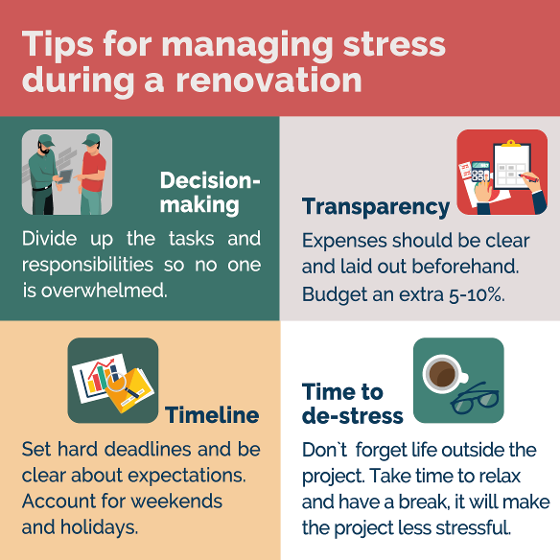 Planning for a home renovation is like any big project — the idea is exciting, but getting it done can be stressful.
When it comes to improving parts of your home, from the kitchen to the bathroom, and everything in between, there are several steps you can take to ease the process, saving both time and money.
1. Figure out the scope of your project.
What exactly do you want to accomplish and what's your budget? If it's a huge undertaking and more money than you have on hand in cash, look into applying for a home equity loan or reverse mortgage.
When creating your budget, be mindful of the full set of costs: labour, materials and equipment. If you're painting a room, for example, don't forget to take stock of any brushes and buckets you'll need to buy on top of the paint.
2. Decide whether it's possible to live at home while you execute your renovation.
Renovations can be a dusty, noisy, and inconvenient business. If necessary, stay with family or friends — or, if someone else is doing the work, this might be a good time to go away on holiday.
If you do choose to stay at home while the renovations are underway, make sure to have a plan in place for children and pets. Both are curious by nature and it's important to set up the necessary safety protections ahead of time to keep them safe. Also, keep in mind where you will sleep and cook while the work is being completed.
3. Hire the right people.
To avoid delays, make sure to be in close contact with the right people from the start and get a written record of all requests and expected deadlines. Be decisive in your decisions, and make sure to select whatever materials and products you need well enough in advance to avoid backlogs.
Also, be realistic about what parts of the project are do-it-yourself. This is where many people overestimate their abilities and end up taking on more than they can chew. Certain tasks like painting, cabinets, and other small fixtures are easily done but things like plumbing or electrical work should be left to professionals, unless you have a very strong background in it.
4. Prepare yourself mentally.
It's okay to feel stressed during a home renovation but knowing that you've readied everything as much as possible will help ease some of the burden. Stick to your plan but try to be flexible if anything unexpected happens like delays.
At the end, you'll have a beautifully remodelled home.